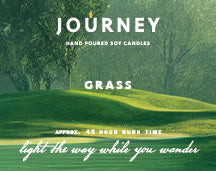 Grass Journey Soy Wax Candle
Let your senses journey to Summertime with our Grass Journey Soy Wax Candle.
Nostalgic aromas of cut grass and green leaves are at the heart of this fragrance with notes of citrus and moss.
This handmade candle combines essential oils including lemon oil, lemongrass, galbanum, palmarosa, clary sage, gurjun balsam, pennyroyal, amyris, cedarwood, pepper, and chamomile flower to deliver an exquisite grass aroma.

Enjoy this luxurious candle and let it take you on a journey!
Soy Wax
Lead-Free Wicks


---
Share this Product