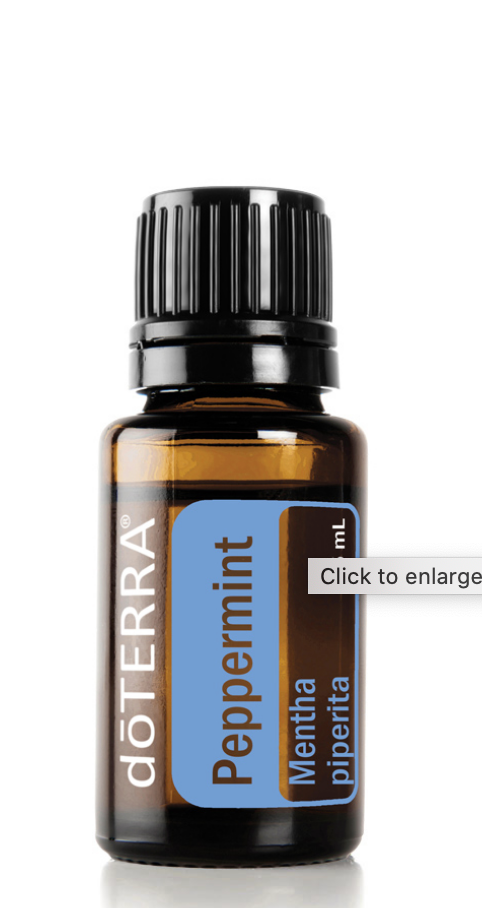 Peppermint Essential Oil
The high menthol content of the doTERRA Peppermint oil sets it apart from others when it comes to quality—making it one of the best-selling favorites among doTERRA essential oils.
Uses
Use a drop of Peppermint oil with Lemon oil in water for a healthy, refreshing mouth rinse.
Take one to two drops of Peppermint essential oil in a Veggie Capsule to alleviate occasional stomach upset.*
Add a drop of peppermint essential oil to your favorite smoothie recipe for a refreshing twist. 
Place one drop of Peppermint essential oil in the palm of hand with one drop Wild Orange oil and one drop Frankincense oil and inhale for a mid-day pick-me-up.
Directions for Use
Diffusion: Use three to four drops in the diffuser of your choice.
Internal use: Dilute one drop in 4 fl. oz. of liquid.
Topical use: Apply one to two drops to desired area. Dilute with a carrier oil to minimize any skin sensitivity. See additional precautions below.
Cautions
Possible skin sensitivity. Keep out of reach of children. If you are pregnant, nursing, or under a doctor's care, consult your physician. Avoid contact with eyes, inner ears, and sensitive areas.
*These statements have not been evaluated by the Food and Drug Administration. This product is not intended to diagnose, treat, cure, or prevent any disease.
---
Share this Product